Gulf Shores Parasailing – Orange Beach Parasailing
Join Ike's Parasail for the best view of the coastline. You will experience and incredible ride high above the crystal clear waters of the beautiful Gulf of Mexico. This unique cruise allows you to experience sea life like you've never seen it before. Witness dolphins and sea turtles and fly with the gulls. Gulf Shores Parasailing and Orange Beach Parasailing is awe-inspiring! Customer satisfaction is second only to safety and Ike's Parasail prides itself on being the best at both. Ike's flies their guests on 800 feet of line, which is the maximum by Federal Aviation Administration specifications. Customers remain in the air approximately 8-10 minutes, offering them a peaceful, tranquil view of the island. Maximum and minimum weight restrictions are subject to the captain's discretion.
SAVE $5 dollars per flyer when you book online using coupon code "
online
" at checkout.
U.S. Coast Guard Certified & Licensed:
Unparalleled safety and professionalism. Board Ike's U.S. Coast Guard-inspected boats and feel comfortable and secure. All Captains and deckhands are U.S. Coast Guard certified and licensed. Captains and crew are also certified in first aid and CPR. Parasailing equipment is inspected and maintenanced by professionals daily.
All customers under the age of 19 will require a parent or legal guardian to sign participants parasail waivers and banana ride waivers. For your convenience, save time and click below to fill out your waivers now.
It is recommended that you where beach appropriate attire and bring a beach towel.
To preserve your memories, photo packages and T-shirts are available for purchase onsite.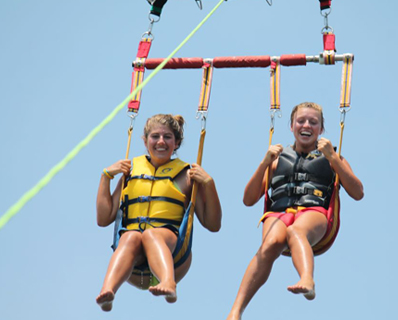 Ike's Parasail FAQs:
Q: At what locations is parasailing offered?
A: Locations include the Gulf Shores Beaches, Alabama Gulf State Park Beach Pavilion, and Flora-Bama Lounge & Oyster Bar.
Q: Do I have to make a reservation if I want to go parasailing?
A: Walk-ups are accepted. However, we advise that you make a reservation.
Q: Is there anything else I can do at these parasailing locations?
A: Kayak, paddleboard, and beach chair rentals, as well as banana boat rides are offered at most parasail locations.
Q: How do we get from the beach to the parasail boat?
A: Customers take a short shuttle ride on the banana boat to the parasail boat.
Q: Can I ride on the parasail boat if I don't want to go parasailing?
A: Yes, any observer wanting to ride on the boat (but not fly) will pay a small fee. However, there is a limited number of observers seats available on each trip.
Q: Will I get wet if I go parasailing?
A: Customers are likely to get wet on the banana boat ride to the parasail boat.
Parasail Locations:
Gulf Shores Parasailing
Island Winds Condominiums
Oceania Condominiums
Alabama Gulf State Park Beach Pavilion
Flora-Bama Lounge & Oyster Bar
Parasail Pricing:
Parasail Flyers are $75 plus tax per person
Parasail Observers are $25 plus tax per person
Banana Boat Rides are $20 plus tax per person
Photo Packages are $35 plus tax per package
T-Shirts are $20 plus tax for short sleeve
T-Shirts are $30 plus tax for long sleeve

Gratuity is always appreciated!
Ike's Parasail
Servicing Gulf Shores & Orange Beach
Phone Number: 251-981-0055
Office Physical Address:
800 West Beach Blvd.
Gulf Shores, AL 36542
Office Hours: 9:00AM to 5:00PM
from Memorial Day to Labor Day.
– Off Season Hours Vary Daily
– Office is Closed Nov, Dec, Jan, and Feb