Parasailing
Come enjoy Parasailing in Gulf Shores and Orange Beach Alabama! Join Ike's Parasail for the best view of the coast, high above the waters of the beautiful Gulf of Mexico. Customer satisfaction is second only to safety and Ike's has a strong commitment to both. Ike's Parasail flies their guests on 800 feet of line, which is the maximum by Federal Aviation Administration specifications. Customers remain in the air approximately 8-10 minutes, offering them a peaceful, tranquil view of the island.
Book your Parasail Trip: (251) 981-0055
U.S. Coast Guard Certified & Licensed:
You'll board Ike's U.S. Coast Guard-inspected boats and enjoy an experience like no other. U.S. Coast Guard certified and licensed captains will ensure a fun trip for you and your family. Captains and crew are certified in first aid and CPR and all equipment is inspected daily before leaving the dock.
Parasail Photo Packages:
To preserve your memories, photo packages are available for purchase onsite. Reservations are suggested, but walkups are welcome. Ike's offers single, double and triple flights at a minimum weight of 150 pounds (all fliers combined). Maximum weight restrictions are subject to the captain's discretion.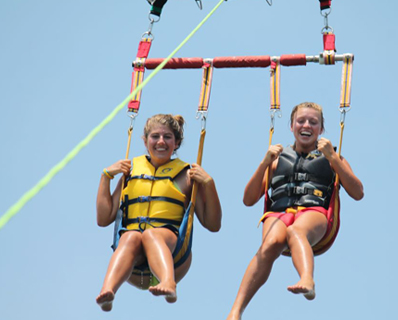 Parasail Locations:
Alabama Gulf State Park Beach Pavilion
Island Winds Condominiums
Oceania Condominiums
Parasail Pricing:
Parasail Rides are $75 plus tax per person
Banana Boat Rides are $20 plus tax per person
Photo Packages are $35 per package (package may include multiple riders)
All customers under the age of 19 will require a parent or guardian's signature to participate in parasail and banana rides, as well as rentals
Ike's Parasail FAQs:
Q: At what locations is parasailing offered?
A: Locations include the Alabama Gulf State Park Beach Pavilion, Island Winds Condominiums, and Oceania Condominiums.
Q: Do I have to make a reservation if I want to go parasailing?
A: Walk-ups are accepted. However, we advise that you make a reservation.
Q: Is there anything else I can do at these parasailing locations?
A: Kayak, paddleboard, and beach chair rentals, as well as banana boat rides are offered at most parasail locations.
Q: How do we get from the beach to the parasail boat?
A: Customers take a short shuttle ride on the banana boat to the parasail boat.
Q: Can I ride on the parasail boat if I don't want to go parasailing?
A: Yes, any observer wanting to ride on the boat (but not fly) will pay a small fee. However, observers will give up their reserved spot in the event that a flyer wants to go up.
Q: Will I get wet if I go parasailing?
A: Customers are likely to get wet on the banana boat ride to the parasail boat.
Ike's Parasail
Servicing Gulf Shores & Orange Beach
Parasail Phone #: 251-981-0055
Office Physical Address:
800 West Beach Blvd.
Gulf Shores, AL 36542
Office Hours: 9:00AM to 5:00PM
from Memorial Day to Labor Day.
– Off Season Hours Vary Daily
– Office is Closed Nov., Dec., and Jan.